Koordenfabriek Van Houte Exsil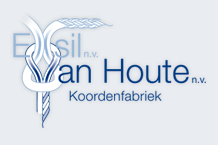 Accessories
Shackles
Shackles are used in both lifting and static systems as removable links to connect wire ropes, chains and other fittings.
Screw pin shackles are used mainly for nonpermanent applications.
Safety bolt shackles are used for long-term or permanent applications.
Material certificate in accordance with Euro-Norm EN 10204 - 3.1.
EC Declaration of Conformity in accordance with annex IIA of the machine directive 2006/42/EC.
Thimbles
Thimbles are used to protect steel wire ropes, fibre ropes or synthetic ropes eyes.
The dimensions of the thimbles must be so that the rope fits properly into the groove of the thimble.
There is no specific load, work load, proof load or break load for thimbles. If any load is given, it should be applied to the master link only.
Sockets
Sockets are the strongest steel wire rope end fitting available on the market and can meet the breaking strength of the steel wire rope if assembled correctly. They are used for lifting, towing, rigging, constructions and anchor lines.
Once the socket is placed on the steel wire, it cannot be removed as it is mounted with hot liquid resin, zinc or white metal. Once cooled, it will be fully hardened and impossible to remove.
Spliced loops (up to 90mm)
We also manufacture swaged eyes with the possibility of a thimble. Our installation allows us to go up to a 90 mm diameter steel wire. The working load limit of the final assembly can be modified according to the chosen end fitting, as shown in the chart below.
Mooring links
Galvanized steel mooring link of compact design typically used as connection between:
Steel wire rope and fibre tail
Fibre rope and fibre tail
Available in three sizes: 90 ton, 120 ton and 180 ton. A 300 ton model can be supplied on request.
Each link is proof tested and certified by DNV.
Link 90T
Tail 56-68mm
Link 120T
Tail 72-80mm
Link 180T
Tail 88-112mm
A = 285 mm
A = 324 mm
A = 350 mm
B = 115 mm
B = 142 mm
B = 184 mm
C = 136 mm
C = 150 mm
C = 160 mm
D = 65 mm
D = 75 mm
D = 85 mm
E = 75 mm
E = 90 mm
E = 120 mm
R = 22 mm
R = 28 mm
R = 30 mm
Breaking load: 90 T
Breaking load: 120 T
Breaking load: 180 T
Proof load: 45 T
Proof load: 60 T
Proof load: 90 T
Weight: 11,2 kg
Weight: 16,9 kg
Weight: 25 kg
Mooring link with roller
120T
180T
Opening (E)
90 mm
120 mm
Roller dia. (D)
82 mm
97 mm
Weight
2,1 kg
4,5 kg







Exsil n.v. - Koordenfabriek Van Houte n.v.

Industriezone Hoogveld

Schaapveld 14

9200 Dendermonde

Belgium

T +32 (0)52 26 01 50

F +32 (0)52 37 18 98

E

info@exsil.be



webdesign by Feel Good Inc