Koordenfabriek Van Houte Exsil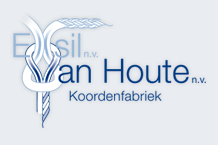 Superline nylon & polyester
The efficiency of nylon and polyester fibre is considerably improved by using Superline construction. This construction is perfectly balanced and consists of central cores with a braided cover. The cover is compact and protects the inner core.
The advantage of this construction is that only the cores are the load-bearing elements. Thanks to the long-lay construction of the cores the rope has a higher breaking strength diam for diam than conventional 3- or 8-strand ropes. For the same reason the elongation of this type of rope is reduced.
Marsiline is another version of Superline polyester. The very compact construction in combination with a thin 100% polyester tear and wear resistant cover provides optimised diam/strength ratio.
Very high abrasion resistance
Excellent diameter/strength ratio
Designed for use on winches
Extended fatigue life
Torque free


Superline polyester with 3-strand twisted cores
Construction
Core:
12-strand plaited core
or


assembly of 3-strand twisted ropes half of which lefthand and half and right-hand lay



Protective outer braided cover:
Superline nylon: 100% nylon cover
Superline polyester: 100% polyester cover
or
50% polyester and 50% supermix (blend of polyester and high tenacity polypropylene) cover
Marsiline: compact 100% polyester cover

Properties
Nylon (Polyamide)
Relative density
1,14
Temperature resistance
Can be used below 0°C
Melting point 218°C (Nylon 6)
UV resistance
Excellent - fully stabilised
Extension
Breaking stretch of 31% (new rope)
reduces to 25% (worked rope)
Flexibility
Good - becomes harder during use
Chemical resistance
Good resistance to alkalis - limited to acids
Polyester
Relative density
1,38 (can vary slightly - depending on cover)
Temperature resistance
Flexible down to –40°C
Melting point 260°C
UV resistance
Excellent - fully stabilised
Extension
Breaking stretch of 14% (new rope)
reduces to 12% (worked rope)
unchanged wet or dry
Flexibility
Remains flexible - no water absorption
Chemical resistance
Good - except to alkalis
Length measured under reference tension according to EN ISO 9554
Typical applications
Hawsers and springs for ship's mooring - Towing pennants - Single point mooring - Tension winch mooring - Ropes for cable laying and oceanographic research
Superline nylon
Diam. Ø
Circ.
Mass
Min. breaking load
mm
inch "
kg/100m
T
kN
16
2
19,1
7,3
71,6
18
2 ¼
21,8
8,4
82,4
20
2 ½
34,1
12,4
122
22
2 ¾
43,2
15,2
149
24
3
49,1
17,8
175
28
3 ½
57,5
21,1
207
32
4
75,1
27,7
272
36
4 ½
86,5
33
324
40
5
103
40,9
401
44
5 ½
117
47,5
466
48
6
128
58,2
571
52
6 ½
172
68,2
669
56
7
184
78,7
772
60
7 ½
208
90,3
886
64
8
245
103
1010
68
8 ½
275
118
1157
72
9
312
129
1265
80
10
385
161
1579
88
11
482
205
2010
96
12
532
232
2275
104
13
629
273
2677
112
14
680
308
3020
120
15
817
352
3452
128
16
919
395
3874
136
17
1018
444
4354
144
18
1119
488
4786
152
19
1266
553
5423
160
20
1413
605
5933
168
21
1516
650
6374
176
22
1620
697
6835
184
23
1723
762
7473
192
24
1874
840
8238
Superline polyester and marsiline
Diam. Ø
Circ.
Mass
Min. breaking load
Min. breaking load
mm
inch "
kg/100m
T
kN
T
kN
16
2
18
8,1
79,4
18
2 ¼
28
11,6
114
20
2 ½
32
12,9
127
22
2 ¾
36
15,1
148
24
3
45
18,5
181
28
3 ½
55
22,5
221
32
4
77
30,5
299
36
353
36
4 ½
87
36,4
357
47
461
40
5
112
46,3
454
55
539
44
5 ½
137
58,2
571
67
657
48
6
165
69,1
678
83
814
52
6 ½
206
84,7
831
99
971
56
7
227
95
932
119
1167
60
7 ½
248
105
1030
134
1314
64
8
280
118
1157
150
1471
68
8 ½
316
133
1304
175
1716
72
9
391
168
1648
190
1863
80
10
456
198
1942
230
2256
88
11
577
248
2432
285
2795
96
12
664
283
2775
330
3236
104
13
730
313
3069
385
3776
112
14
863
371
3638
120
15
950
410
4021
128
16
1077
455
4462
136
17
1255
532
5217
144
18
1389
590
5786
152
19
1520
648
6355
160
20
1699
725
7110
168
21
1832
782
7669
176
22
2054
878
8610
184
23
2231
954
9355
192
24
2408
1030
10101
Load VS Extension (Nylon)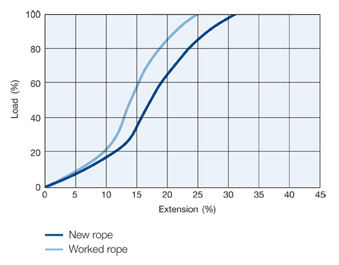 Load VS Extension (Polyester & Marsilene)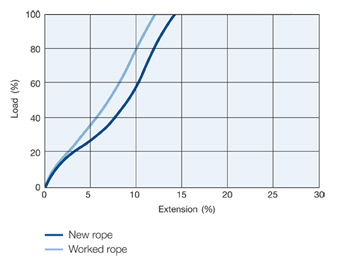 Exsil n.v. - Koordenfabriek Van Houte n.v.

Industriezone Hoogveld

Schaapveld 14

9200 Dendermonde

Belgium

T +32 (0)52 26 01 50

F +32 (0)52 37 18 98

E

info@exsil.be



webdesign by Feel Good Inc