Koordenfabriek Van Houte Exsil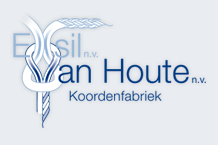 HMPE gold
Setting new standards
High Modulus PolyEthylene rope is one of the strongest, most durable and innovative ropes on the market today. The rope is made from ultra-high molecular weight polyethylene.
The individual HMPE rope yarns are impregnated with a durable coating to reduce abrasion and extend the service life. The strength of HMPE rope is comparable diameter/diameter to steel wire rope. Available in two varieties: Single braided and cover braided rope.
Superior strength/mass ratio
Low elongation for reduced snap-back
No shrinkage when wet – no water absorption
Exceptional flex fatigue life
Excellent abrasion resistance
Torque free
OCIMF approved product

Construction
Single braided with polyurethane coating:
12-strand (12x1)
8-strand (4x2)
Cover braided:
12-strand or 8-strand braided and PU impregnated core
with 24- or 32-strand braided HT polyester cover
Optional HMPE braided and PU impregnated cover available.
The outer braided cover protects and compacts the load-bearing core.
Standard colour
Silver - single braided
White - polyester cover braided


Other colours on request



Properties
Relative density
Single braided: 0,97 (floats)
Cover braided will vary from 0,97 to 1,15 depending on cover type
Temperature resistance
Melting point 150°C
UV resistance
Excellent - fully stabilized
Extension
4,5% at break (new rope)
reduces to 2% (worked rope)
Flexibility
Light weight and exible for easy handling - good shape retention
Chemical resistance
HMPE excellent
Polyester limited to alkalis
Length measured under reference tension according to ISO 9554. Minimum breaking load measured according to ISO 2307.
Spliced ropes will on average have 10% lower minimum breaking load. Figures and information are for guidance purpose only.
Typical applications
Winch lines - mooring lines - tow lines - tug assist lines - deep water lift lines - pipe pull lines - wire rope replacements - heavy duty slings - shing lines - oceanographic/ seismic cables - adjustable slings - Chinese fingers
HMPE 12- AND 8-strand single braided
Diam. Ø
Mass
Min. breaking load
mm
kg/100m
T
kN
4
0,9
1,53
14
6
2,3
3,77
37
8
4
6,65
65
10
6,1
10,4
102
12
8,7
15
147
14
11,7
20,4
200
16
15,1
26,5
260
18
19
31,6
310
20
23
38,7
380
24
33
53
520
26
38
61,2
600
28
45
69,3
680
30
51
78,5
770
32
58
88,7
870
34
65
97,
960
36
72
106
1040
38
80
118
1160
40
89
128
1260
42
98
136
1330
44
107
149
1460
46
116
163
1600
48
126
173
1700
50
137
186
1820
52
148
201
1970
56
171
230
2260
60
195
258
2530
64
221
290
2840
68
248
323
3170
72
278
359
3520
76
309
397
3890
80
343
438
4300
82
362
463
4541
88
417
530
5200
96
496
630
6180
104
586
723
7090
112
679
831
8150
HMPE with braided polyester cover
Diam. Ø
Mass
Min. breaking load
mm
kg/100m
T
kN
20
27,4
27,6
271
22
33
34,8
341
24
38,5
41
402
26
44
48
471
28
51,7
56
549
30
58,1
65
637
32
65,7
75
736
34
73,2
84
824
36
80,6
93
912
38
89,2
103
1010
40
98,8
116
1140
44
118
141
1380
48
138
164
1610
52
161
196
1920
56
185
223
2190
60
209
257
2520
64
236
294
2880
68
264
332
3260
72
295
370
3630
Load VS Extension







Exsil n.v. - Koordenfabriek Van Houte n.v.

Industriezone Hoogveld

Schaapveld 14

9200 Dendermonde

Belgium

T +32 (0)52 26 01 50

F +32 (0)52 37 18 98

E

info@exsil.be



webdesign by Feel Good Inc