Koordenfabriek Van Houte Exsil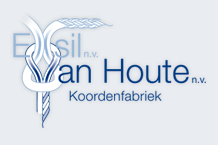 Polypropylene – multifilament and synthetic hemp
Multifilament
A stronger kind of polypropylene composed of thin, soft fibres which makes it look similar to nylon. The basic colour is natural white.
Available in twisted as well as braided rope.
Other colours on request.

Synthetic hemp (PP-Tex)
Extruded fibrillated film cut into discontinuous fine fibre and spun to form rope yarn similar in appearance and touch to natural hemp. Ideal as hand rope. Standard colour is natural beige. Available in 3- or 4-strand twisted rope.


Easy to splice
High breaking strength
Very soft
Rot-proof
Floating
Construction
3- or 4-strand twisted rope



8-strand braided rope on request



Coils or reels of 100-200-220m

Standard colour
Multifilament: Natural white
PP-Tex: Natural beige


Other colours available on request
Properties
Relative density
0,91 (floats)
Temperature resistance
Perfect for use between –30°C and +100°C
Melting point 170°C
UV resistance
Fully stabilised
Extension
Circa 18% at break
No water absorption and remains flexible when wet
Flexibility
Very soft and flexible
Chemical resistance
Resistant to alkalis, acids and oil
Length measured under reference tension according to EN ISO 9554
Typical applications
Swings - climbing nets - rope pulling - Mooring and gear for yachting - Decoration
Polypropylene multifilament
Diam. Ø
Mass
Min. breaking load
mm
kg/100m
T
kN
6
1,7
0,67
6,62
8
3
1,22
11,9
10
4,5
1,87
18,4
12
6,5
2,7
26,5
14
9
3,69
36,2
16
11,5
4,77
46,8
18
14,8
6,03
59,2
20
18
7,47
73,3
22
22
9
88,3
24
26
10,8
106
26
30,5
12,4
122
28
35,5
14,2
140
30
40,5
16
157
32
46
18
177
34
52,5
20,1
197
36
58,5
22,3
219
38
65,5
24,6
241
40
72
27
265
44
88
32,2
316
48
104
37,8
371
Braided Polypropylene multifilament
Diam. Ø
Mass
Min. breaking load
mm
kg/100m
T
kN
1
0,08
0,03
0,29
2
0,16
0,07
0,7
3
0,4
0,15
1,5
4
0,7
0,31
3
5
1
0,34
3,35
6
1,55
0,53
5,2
8
2,5
0,92
9
10
4
1,33
13
12
5,5
1,83
18
14
7,9
2,45
24
16
10,2
3,06
30
18
13,2
3,98
39
20
15,7
4,79
47
22
19
5,81
57
24
22,5
6,83
67
Synthetic Hemp (PP-Tex)
Diam. Ø
Mass
Min. breaking load
mm
kg/100m
T
kN
4
0,8
0,20
1,94
6
1,7
0,50
4,86
8
3
0,86
8,48
10
4,5
1,28
12,6
12
6,5
1,83
18,0
14
9
2,41
23,7
16
11,5
3,15
30,9
18
14,8
4,01
39,3
20
18
4,83
47,4
22
22
5,85
57,4
24
26
6,84
67,1
26
30,5
7,96
78,1
28
35,5
9,09
89,2
30
40,5
10,3
102
32
46
11,5
113
34
52,5
12,9
127
36
58,5
14,5
142
38
65,5
16,0
157
40
72
17,4
171
44
88
21,1
207
48
104
24,5
240
Load VS Extension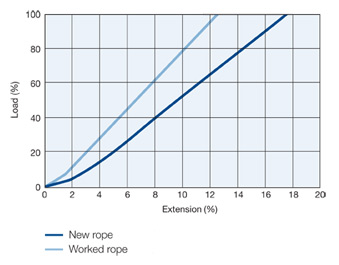 Exsil n.v. - Koordenfabriek Van Houte n.v.

Industriezone Hoogveld

Schaapveld 14

9200 Dendermonde

Belgium

T +32 (0)52 26 01 50

F +32 (0)52 37 18 98

E

info@exsil.be



webdesign by Feel Good Inc